The AQ
LIGHTING
Tri-Directional in-ground pathway light was created by a designer to give pathways and driveways a "hotel" lit look to your home or business' pathway. The PGC3B-MH "mushroom" tri-directional in-ground well pathway light comes pre-wired for 12 volt and 120 volt applications. This American design is built from solid composite material making it more durable than aluminum and a life long lasting fixture. The Bronze Tri-Directional cover is made of solid cast brass with a bronze finish. We are proud to use commercial grade heavy materials for the construction of this heavy duty in ground lighting pathway fixture. The PGC3B-MH mini low voltage fixture uses an MR16 bulb greatly reducing your energy bill vs 120v bulb. The tri-directional pathway light comes with a watertight flat tempered glass lens which will minimize dried condensation on your in-ground well pathway light. The PGC3B-MH low voltage in ground pathway lights have been designed for installation either directly in the dirt or for long lasting applications directly in concrete. We recommend using the ABS composite concrete sleeve for pathway or concrete applications. We have wired this fixture with a 3 wire cable enabling it to also be used with 120 volts.
Tri-Directional Design:
Cover more area with less fixtures with the PGC3B-MH in-ground well light's tri-directional feature. The cover serves to disperse the light in 3 directions while shielding observers from bulb glare and protecting the tempered glass lens. Commonly used for marker lighting applications, the PGC3B-MH in ground light is right at home lighting pathways, lining driveways or walkways.
Lifetime Guarantee Against Rust or Corrosion:
The PGC3B-MH in-ground well light is made from such high grade material that we guarantee it for life never to rust or corrode. Included is a 21.5" heavy duty SVT cable that exits the fixture on the bottom for easy in ground installation.
Adjustable Socket:
LED ready, the PGC3B-MH in-ground well light utilizes an exclusive adjustable UL Certified JC Bi-Pin socket, which is compatible with our brand of MR11 and MR16 light bulbs.
Bulbs
AQ
LIGHTING
is using some of the newest, most efficient and reliable LED's available today for it's LED MR11s and MR16s with over 40,000 hours of life span rating vs less than 2,000 for halogen and a 3,100K color temperature.
Voltage
We designed the PGC3B-MH composite in-ground well light kits to function 12Vor 120V. 12V systems require a
low voltage transformer
.
Included:
1 X

PGC3B-MH Fixture

1 X

Solid Composite Body

1 X

Bubble Glass Lens

1 X

Polished Full Cup Mirror Reflector

1 X

Adjustable Socket (Exclusive Design)

1 X

21.5" SVT Cable (12V or 120V)
Warranty
One year limited warranty against defects in construction.
Dimensions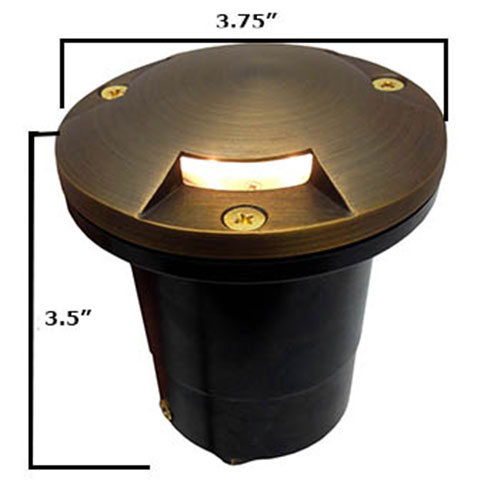 | | |
| --- | --- |
| Material | ABS Composite / Brass Cover |
| Voltage | 12V / 120V |
| Socket Type | UL Certified JC Bi-Pin (Adjustable) |
| Bulb Type | MR11 / MR16 |
| Power Rating | 50w Max |
| Mounting | In-Ground / Below Grade |
| Wiring | 20" Leads |
| Fixture Weight | 3.75 lbs. |
%%Panel.OutdoorAccessories%%