Note: For longer runs, some applications may experience Voltage Drop. Click to learn more.
N.S.C. System Connection Example
The AQLIGHTING Tri-Directional In-Ground Pathway Light was created to give your pathways and driveways that "hotel" lit look to your home or business. The PGC3B-MH "mushroom" Tri-Directional In-Ground Well Pathway Light comes pre-wired for 12 volt applications. This design uses solid composite material making it more durable and lighter than its aluminum counterpart. The low voltage exterior lighting fixture comes with a watertight tempered glass lens which will minimize dried condensation for your light.
N.S.C. Retrofit Adapter Diagram
To retrofit this fixture to your existing lighting setup, simply use our retrofit adapter (available as additional option) and you can easily connect your new fixture without splicing any wires, saving you a lot of time during installation!
Tri-Directional Design
Cover more area with less fixtures with the PGC3B-MH in-ground well light's tri-directional feature. The cover serves to disperse the light in 3 directions while shielding observers from bulb glare and protecting the tempered glass lens. Commonly used for marker lighting applications, the PGC3B-MH in ground light is right at home lighting pathways, lining driveways or walkways.
Adjustable Socket
LED ready, the PGC3B-MH in-ground well light utilizes an exclusive adjustable UL Certified JC Bi-Pin socket, which is compatible with our brand of MR11 and MR16 light bulbs.
No Splice Connection Wiring System
With AQLIGHTING's N.S.C system, each point of contact is tool-free, watertight and can be connected in ~5 seconds. This wiring system will save you a ton of time and labor and offers the ability to service or add new fixtures to your system hassle-free.
Tool-Free Installation
With AQLighting's innovative N.S.C. (No Splice Connection) wiring system, installing the PGC3B-AS-NSC in-ground well light is a breeze. Each point of contact in the wiring system is tool-free and watertight, allowing for quick and secure connections in approximately 5 seconds. This eliminates the need for wire strippers and saves you valuable time and labor during installation. Additionally, the N.S.C. system offers the convenience of servicing your landscaping lights without having to remove the entire system, providing effortless maintenance and flexibility for your lighting project.
Voltage
12V systems require a low voltage transformer.
Included
1x

PGC3B-MH Fixture

1x

Solid Composite Body

1x

Bubble Glass Lens

1x

Polished Full Cup Mirror Reflector

1x

Adjustable Socket (Exclusive Design)
Warranty
One year limited warranty against defects in construction.
| | |
| --- | --- |
| Material | ABS Composite / Brass Cover |
| Voltage | 12V |
| Socket Type | UL Certified JC Bi-Pin (Adjustable) |
| Bulb Type | MR11 / MR16 |
| Power Rating | 35w Max |
| Mounting | In-Ground / Below Grade |
| Fixture Weight | 3.75 lbs. |
Dimensions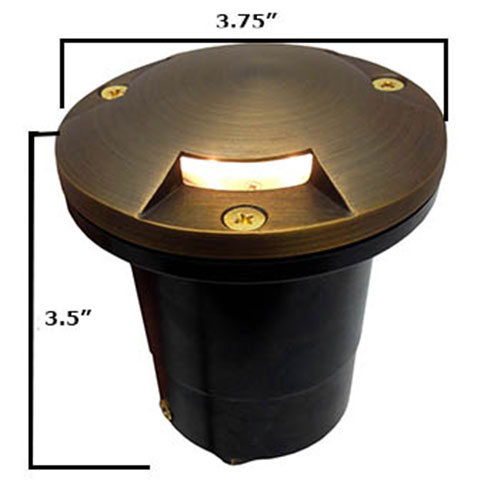 %%Panel.OutdoorAccessories%%
Frequently Asked Questions
What type of bulb requires this lamp?
This pendant light uses a universal JC BI pin socket which takes any bi pin bulb, with a pin spacing of 4 mm to 6.35 mm. A 2.5 watt MR 11, a 1.5 watt bi pin or even a 20 watt halogen MR16 bulb will fit.
Does this come with its own power cord or do I connect it to a transformer?
This fixture comes standard with a 20" whip with bare wires. For 12 volt applications, you would require a transformer. For more info, please call the AQLighting Tech department at 800-865-7221.
Intro to NSC (No Splice Connection) Systems
How to Use The No Splice Connection (NSC) System
Customer Videos