Illuminate every space with confidence and style
The Reliable Partner For All Your Lighting Needs.
+40 Year Experience
With over 40 years of lighting expertise,
we focus in providing the best customer
experience and great quality products
Shipping & Quickship
Free Shipping on items over $100 and
Quickship for selected items placed by
5pm PST ship same day.
Stress Free & Easy Returns
We provide a 14-day, stress free return
and exchange policy on the majority of
our products
Note: For longer runs, some applications may experience Voltage Drop. Click to learn more.
N.S.C. System Connection Example
One of AQLIGHTING's newest addition to its in-ground lighting fixtures line up is this 3.5" mini low voltage in ground well light built from solid composite material making it more durable than aluminum. The PGC3B in ground light fixture offers multiple finishes for the visible part of the fixture turning your in-ground well light into a designer fixture adding uniqueness to any landscaping job. We are proud to use commercial grade heavy materials for the construction of this heavy duty in ground lighting fixture. The PGC3B low voltage in ground well lights have been designed for installation either directly in the dirt or for long lasting applications directly in concrete. We recommend using our ABS composite concrete sleeve for pathway or concrete applications.
N.S.C. Retrofit Adapter Diagram
To retrofit this fixture to your existing lighting setup, simply use our retrofit adapter (available as additional option) and you can easily connect your new fixture without splicing any wires, saving you a lot of time during installation!
Solid Composite Construction
Crafted from high quality, heavy duty solid composite material, the PGC3B in-ground well light is designed to last in the rough conditions of an outdoor environment. The PGC3B in-ground well light is made from such high grade material that we guarantee it for life never to rust or corrode.
Adjustable Socket Design
LED ready, the PGC3B in-ground well light utilized a UL Certified JC Bi-Pin exclusive adjustable socket design, which is compatible with our line of LED MR11 and MR16 light bulbs.
No Splice Connection Wiring System
With AQLighting's new N.S.C. system, installing your in ground well lights will be very easy. Each point of contact is tool-free, watertight and can be connected in ~5 seconds. This wiring system will save you a ton of time and labor and offers the ability to service your well lights in seconds without removing the entire system. The system is also easily expandable, allowing you to dynamically change your lighting projects at moments notice.
Tool-Free Installation
With AQLighting's innovative N.S.C. (No Splice Connection) wiring system, installing the PGC3B-AS-NSC in-ground well light is a breeze. Each point of contact in the wiring system is tool-free and watertight, allowing for quick and secure connections in approximately 5 seconds. This eliminates the need for wire strippers and saves you valuable time and labor during installation. Additionally, the N.S.C. system offers the convenience of servicing your landscaping lights without having to remove the entire system, providing effortless maintenance and flexibility for your lighting project.
Low Voltage Landscaping Lights
12V systems require a low voltage transformer.
Included
1x

Solid Composite Body

1x

PGC3B-1 Fixture

1x

Polished Full Cup Mirror Reflector

1x

Adjustable Socket (Exclusive Design)
Warranty
One year limited warranty against defects in construction.
| | |
| --- | --- |
| Material | ABS Composite Fixture Body |
| Voltage | 12V |
| Socket Type | Adjustable JC Bi-Pin Socket |
| Bulb Type | MR11 / MR16 / Bi-Pin Cluster |
| Power Rating | 35w Max |
| Mounting | Below Grade / In-Ground |
| Fixture Weight | 3.75 lbs. |
Dimensions Diagram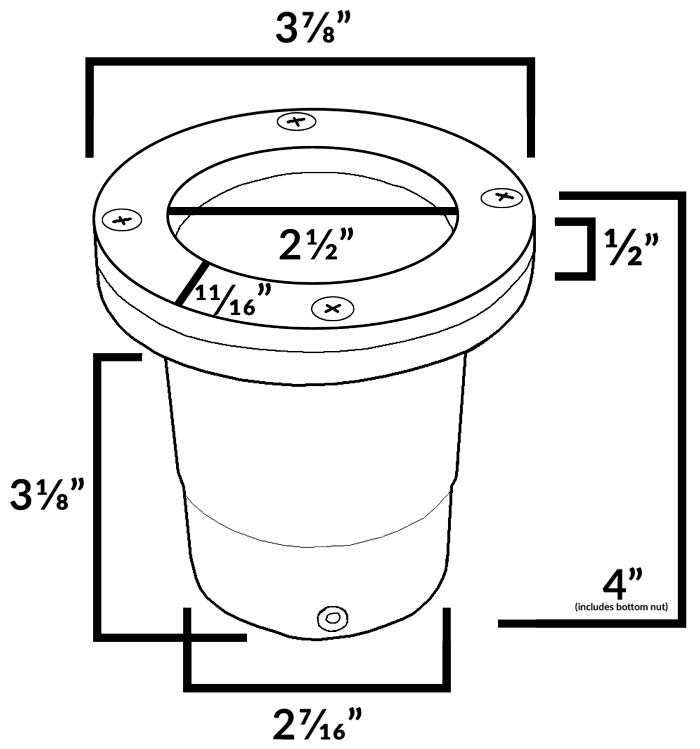 %%Panel.OutdoorAccessories%%
Frequently Asked Questions
12V/120V Composite In Ground Well Light
What type of bulb requires this lamp?
This pendant light uses a universal JC BI pin socket which takes any bi pin bulb, with a pin spacing of 4 mm to 6.35 mm. A 2.5 watt MR 11, a 1.5 watt bi pin or even a 20 watt halogen MR16 bulb will fit.
Does this come with its own power cord or do I connect it to a transformer?
This fixture comes standard with a 20" whip with bare wires. For 12 volt applications, you would require a transformer. For more info, please call the AQLighting Tech department at 800-865-7221.
Intro to NSC (No Splice Connection) Systems
How to Use The No Splice Connection (NSC) System
Customer Videos