AQLIGHTING's newest addition to its in-ground lighting fixtures line up is this 3.5" mini low voltage in ground well light built from solid composite material making it more durable than aluminum. The PGC3B-CG in ground light fixture offers multiple finishes for the visible part of the fixture turning your in-ground well light into a designer fixture, adding uniqueness to any landscaping job. We are proud to use commercial grade heavy materials for the construction of this heavy duty in ground lighting fixture. The mini low voltage fixture uses an MR16 bulb greatly reducing your energy bill as opposed to the 120V bulb. The PGC3B-CG offers two types of lenses; a flat tempered glass lens for a modern look and a convex glass lens for a classic look. Both lenses are watertight, however, for humid areas, we recommend the convex glass lens which allows the morning dew or the sprinkler water to drip off the lens and minimize dried condensation on your in-ground light fixture. Our low voltage in ground well lights have been designed for installation either directly in the dirt or for long lasting applications directly in concrete. We recommend using our ABS composite concrete sleeve for pathway or concrete applications. We have wired this fixture with a 3 wire cable enabling it to also be used with 120 volts.
Solid Composite Construction
Crafted from high quality, heavy duty solid composite material, the PGC3B-CG in-ground well light is designed to last in the rough conditions of an outdoor environment.
High Grade Material
The PGC3B-CG in-ground well light is made from such high grade material that it will be resistant against rust or corrosion.
Included is a 21.5" heavy duty SVT cable that exits from the bottom of the fixture for easy in ground installation.
Adjustable Socket Design
LED ready, the PGC3B-1 in-ground well light utilized a UL Certified JC Bi-Pin exclusive adjustable socket design, which is compatible with our line of LED MR11 and MR16 light bulbs.
Bulbs
AQLIGHTING is using some of the newest, most efficient and reliable LED's available today for it's LED MR11s and MR16s with over 40,000 hours of life span rating vs less than 2,000 for halogen and a 3,100K color temperature.
Voltage
We designed the PGC3B-CG composite in-ground well light kits to function on 12V or 120V. 12V systems require a low voltage transformer.
Included:
1 X

PGC3B-1 Solid Composite Fixture

1 X

Adjustable Socket (Exclusive Design)

1 X

21.5" SVT Cable (12V or 120V)
Warranty
One year limited warranty against defects in construction.
| | |
| --- | --- |
| Material | ABS Composite Fixture Body |
| Voltage | 12V / 120V |
| Socket Type | Adjustable JC Bi-Pin Socket |
| Bulb Type | MR11 / MR16 / Bi-Pin Cluster |
| Power Rating | 35w Max |
| Mounting | Below Grade / In-Ground |
| Cover Options | Open / Grill / Mushroom / Eyebrow |
| Fixture Weight | 3.75 lbs. |
Specification Sheet Download
Dimensions Diagram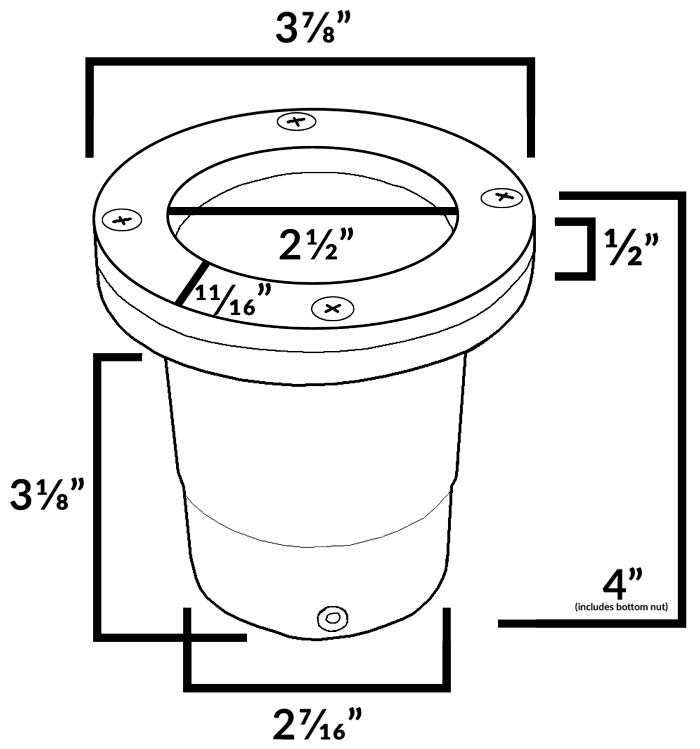 %%Panel.OutdoorAccessories%%
%%Panel.PGC3BCovers%%
Frequently Asked Questions
12V/120V Composite In Ground Well Light
What type of bulb requires this lamp?
This pendant light uses a universal JC BI pin socket which takes any bi pin bulb, with a pin spacing of 4 mm to 6.35 mm. A 2.5 watt MR 11, a 1.5 watt bi pin or even a 20 watt halogen MR16 bulb will fit.
Does this come with its own power cord or do I connect it to a transformer?
This fixture comes standard with a 20" whip with bare wires. For 12 volt applications, you would require a transformer. For more info, please call the AQLighting Tech department at 800-865-7221.