AQLIGHTING brings you the first under cabinet LED light bar which lets you choose the light color output from 2700K to 3300K to 4000K simply by using a toggle switch. If you are unsure which color light bar you need, don't worry ours have warm white, cool white or natural white all in one unit. On the face of the light bar, located next to the toggle switch, is the Color Select switch, which allows to you change the color temperature from warm white to natural white to cool white instantly. No other LED kitchen lighting fixture gives you this flexibility! Just like our award winning AQAC LED bar, the AQAC is fully dimmable, linkable in series and capable of being either hardwired or plugged in via power cord. The AQAC carries a cETLus certification, conforms to both Energy Star and Title 24 requirements and is available in brilliant alpine white.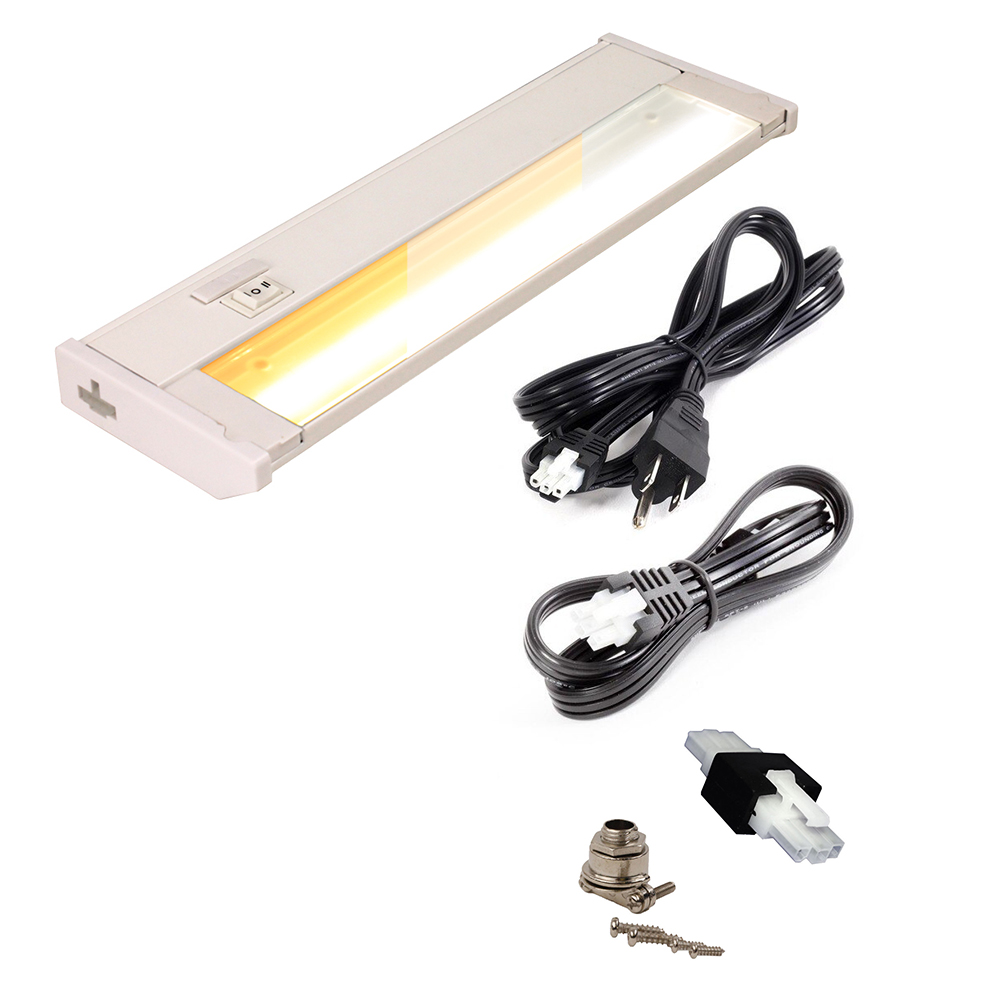 All-In-One Kit
Everything you need is included in this kit
This light bar comes with a 6-foot power cord, a 12-inch jumper cable, an end-to-end linking connector, and a romex connector.
3-in-1 Switchable White Light
Select cool white for brushed and polished surfaces for a sleek modern look, warm white for traditionally designed counter tops or natural white for clear task lighting.
Easy access switch allows you to quickly change color temperature on the fly.
Use the switch to toggle between warm white, cool white and natural white.
Designed to suite a variety of tasks.
Link Up
Link multiple light bars together using the jumper cables (sold separately).
Can be connected to permanent hardwire via romex connector or plugged in to a standard 3-prong wall output.
Ability to supply power to your entire kitchen recessed lighting run of AQAC LED light bars.
Stylish Design
Elegant enough for a designer but tough and reliable for a contractor.
Locked mounting screws in the back of the housing for a pain-free installation.
Redesigned connectors makes it easy attach and operate.
Designed to be mounted flush under cabinets for a sleek and inconspicuous look.
| | |
| --- | --- |
| Material | Extruded Aluminum |
| Voltage | 120V |
| Socket Type | N/A |
| Bulb Type | Integrated LED |
| Power Draw | 4w / 8w / 14w / 18w |
| Light Output | 360 / 540 / 725 / 965 Lumens |
| Color Temp | Warm White 2700K - Natural White 3300K - Day White 4000K |
| CRI | 90+ |
| Dimming Capacity | Full Range and High-Low/ Off Toggle Switch |
| Lens | Frosted Diffused Glass |
| Mounting | Surface |
| Connection Type | Hardwire Romex / Plug-in 3 Pin |
| Dimensions | 12"/18"/24"/32" Length X 3.625" Wide X ~1" Tall |
| Rated Lifetime | 50,000+ Hours |
| Certifications | cETLus Listed / Energy Star (pending) |
Specification Sheet Download
Dimensions Diagram:
%%Panel.AQUCaccessories%%
Frequently Asked Questions
Under Cabinet Light Bar - AQAC
Is this hardwire install or does it come with a power cord?
The AQAC kitchen light bar can be purchased with a power cord or can be installed via hardwire.
Are LED Light bars compatible with a dimmer
Yes! This product can be paired with a dimmer for a smooth light output control.
Can I use this under bathroom cabinets too?
Yes, but this fixture is not rated for wet locations
What is the color temperature?
This LED light bar produces a warm white light
Does it have an on/off function?
Yes, it is installed with your electrical wiring system and can be turned on and off
How bright is this fixture or what is the light output like?
The AQAC LED light bar produces up to 945 lumens, depending on its size. The smallest light bar is 8" long and produces 265 lumens.
Can this be used over the kitchen range?
Although this light bar is not rated for wet locations, it can be installed over the cooking range as long as the steam and smoke are not directly hitting the light fixture.
Does this product come with a warranty?
Yes, the AQAC light bar comes with a one-year warranty.
Can I connect multiple light bars together for long countertops?
Yes, you can use jumper cables or haradwire to connect multiple light bars together. However, please make sure to not go over the suggested maximum wattage limit to avoid damaging the light fixture
Are the bulbs replaceable?
No, this fixture uses LED diodes which are not replaceable.
Does it come with power cord or hardwire?
This kitchen light bar can be ordered with a power cord or can be installed via hardwire.
Are the bulbs included?
Yes, the AQAC under cabinet lights comes with everything you need for a smooth installation.
How long does these lights last?
This LED kitchen light bar is rated for up to 50,000 hours or 4 years.
Does the light swivel or adjust?
No, the light output is in a fixed position.
Does this fixture get hot?
Since it uses LED light, the AQAC under cabinet kitchen light can run for hours without getting hot.
AQAUC Color Changing Demo
How to Install - Slim Undercabinet Light Bar
AQAUC Kitchen Undercabinet Application
AQAUC Garage Task Lighting Application