Note: For longer runs, some applications may experience Voltage Drop. Click to learn more.
AQL's 12V LED canopy brass area light is one of best selling landscape lights. In addition, this fixture comes fully equipped with our patented No Splice Connection system allowing for a quick and easy installation. No other material offers the same longevity and strength as brass and this path light makes the most of it. Designed to maximize operational lifetime, this area light features our new head assembly which makes installation and maintenance a breeze. Simply unscrew the entire head assembly and you have direct access to the JC Bi-Pin socket. Our clear glass tube diffuser protects the bulb and gently diffuses the light to create a warm, welcoming glow. Line your driveways, pathways, gazebos; enhance your landscape and secure your pathways with AQL's canopy brass area light.
AQL's Solid Cast Brass Area Lights' quality is unmatched at the best price built and designed to withstand all weathers and the process of time.
New Socket Post Design:
AQL's new and improved socket post design allows bulb replacement without dismantling the harp and shade. A feature for convenience and durability!
UL Certified Socket:
UL certified Jc-Bi-Pin socket with 24" 16ga high temperature leads with bare copper ground. Compatible with AQL's line of energy efficient LED JC Bi-Pin Cluster bulbs.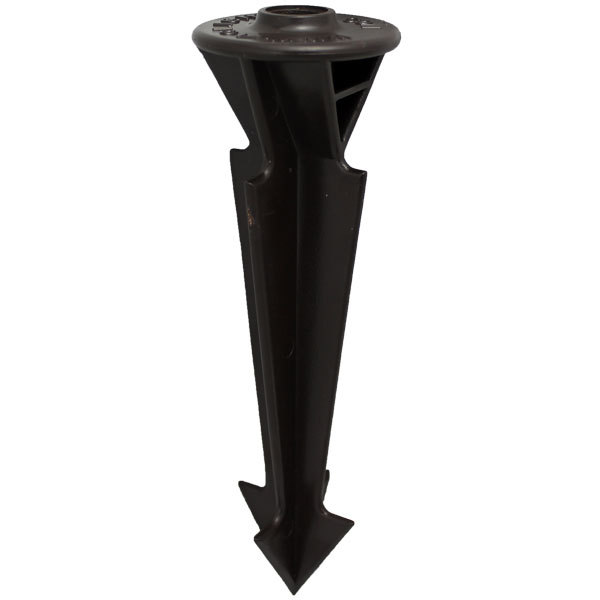 Upgrade to our Heavy Duty Super Stake:
Definitely not your average ground stake, our heavy duty super stake is designed to never rust or corrode for life. Its exaggerated size and our exclusive patented "ground stab" fins both combine to provide the strongest maximum foundation for your fixture. WARNING: Please identify the placement of your ground stake first. Our super stake is made to not move over time, it will be difficult to remove once installed.
Isn't this what a true ground stake should do?
Dimensions: Top base is 3" wide and stake is 10.25" long.
Versatile Mounting Options for Flexible Installation
The LED-PASH112 canopy brass area light offers versatile mounting options, allowing for flexible installation according to your specific needs. Whether you prefer ground mounting using the included heavy-duty super stake or surface mounting with the use of a cast brass surface mounting base, this fixture provides options to suit different outdoor applications. With its easy-to-use mounting system, you can securely and conveniently install the area light in various locations, providing optimal illumination for driveways, pathways, gazebos, and more.
Intro to No Splice Connection Wiring System (NSC)
Introducing the No Splice Connection System (NSC): The easiest way to illuminate your landscape! Designed for the average joe looking to enhance their outdoor space with landscape lighting, NSC saves you time and requires no knowledge of connecting wires or lighting applications. Our patented system features threaded male and female adapters, allowing you to effortlessly connect fixtures together. Say goodbye to splicing wires and hello to a simple screw-on technique! With NSC, multiple fixtures can be easily connected, thanks to our T-connector, X-connector, Jumpers, and Power Connects. Available in various lengths, our cables cater to any application. It's plug-and-play, making installation a breeze. No more exposed wires or complex installations! Experience the convenience and simplicity of NSC today. Illuminate your landscape with ease and transform your outdoor space into a stunning oasis. Upgrade to NSC and let your lights shine bright!
Need a Photocell?
Install a photocell on your low voltage transformer and never have to worry about turning your LED area landscape lights on again.
Bulbs
Our LED Area Light comes standard with a 12 volt 2 watts cool white or warm white LED bulb.
Voltage
This brass LED area lighting fixture is designed to works on a 12 volt and 120 volt line. 12 volt requires a
low voltage transformer
.
Free Items Included!
These items come free with our Area Lights:
1 x

LED-PASH112 Fixture

1 x

Heavy Duty Generations Stake (12V only)

1 x

12V 2w LED Cool/Warm White JC Bi-Pin Cluster Bulb

1 x

13.5" or 21" Extension
Solid Brass & Brass Tube Construction for the Longest Lasting and Highest Quality Fixture
Lifetime Guarantee Not to Rust or Corrode
WireGuard™ Bushing Protects the Wires from Shearing
UL Approved JC Bi-Pin Socket w/ 24" 16ga High-Temp Leads with Bare Copper Ground Wire
New Socket / Post Design Allows for Easy Bulb Replacement without Dismantling the Shade
Clear Tempered Glass Tube Diffuser
Electro-Plated Bronze or Powder-coat Finish
| | |
| --- | --- |
| Voltage | 12V / 120V |
| Socket | UL Approved JC Bi-Pin |
| Bulb Type | LED JC Bi-Pin |
| Power Rating | 50w Max |
| Mounting | Ground / Surface |
| Weight | 2.15 lbs |
Dimensions

%%Panel.OutdoorAccessories%%
NSC INSTALLATION GUIDE
Customer Videos