Heavy cast brass directional low voltage LED spotlight and floodlight. Brass construction fixtures will never rust nor corrode and last a lifetime against the elements. Includes a sealed convex glass lens, which allows for the water to beat right off to maximize the illumination. Our LED spotlight is great for wall washes, security, building facades, landscapes, signs, pathways or full mature foliage of various heights; residential or commercial uses alike. This premium brass spotlight comes with our exclusive Tele-shield™ (long no-angle shield) to prevent side glare and produce a tight beam spread. We also offer a wide selection of MR16 light bulbs for theme lighting.
Improved Landscape Lighting Design
AQL's new and improved solid cast brass swivel design with screw adjustment is weather proof and won't change direction under extreme weather.
Using heavy duty brass material, the LEDGSFLD12 is guaranteed to be esistant against rust or corrosion that other fixtures experience due to the forces of nature. Set it once right, set it for life!
LED Ready Outside Spotlight
This brass spotlight utilizes a JC Bi-Pin type socket, letting you pick from a vast selection of energy efficient LED light bulbs. Depending on the size of your lighting projects, you could be saving hundreds on your power bill.
LED light bulbs produce the same amount of light as a halogen bulb while only using approximately 80% less energy. Start using some of the newest, most efficient and reliable LED's available today providing over 40,000 hours of bulb life compared to the 2,000 hours of life you can get from a halogen bulb.
AQL has designed this LED spotlight with a 16ga UL certified JC Bi-Pin socket with high temperature leads with bare copper ground wire. Durability at its best!
Clear WaterSlide Convex Tempered Glass Lens
AQL designed this LED spotlight to withstand extreme weather and function during heavy rain lighting where you want it to all the time.
With our clear WaterSlide convex lens, water will not stay on the lens and not affect the illumination of your choosing. This fixture also comes with our exclusive Tele-shield™ long sleeve for spotlighting purposes as it shields from side glare.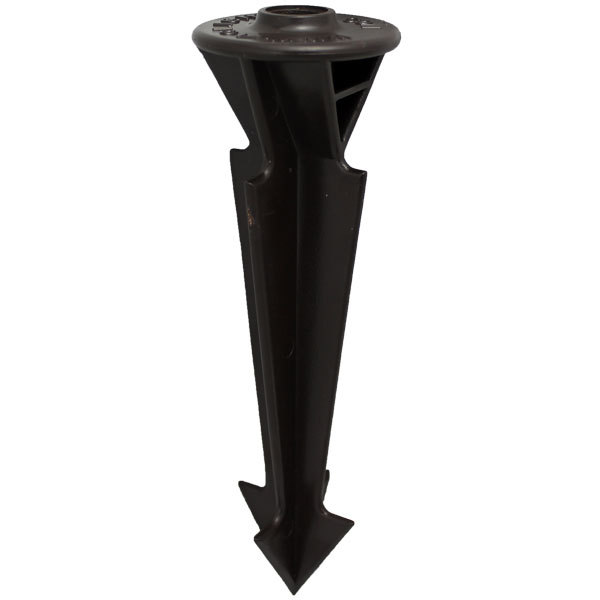 Definitely Not Your Average Ground Stake
Our heavy duty super stake is designed to never rust or corrode for life. Its exaggerated size and our exclusive patented "ground stab" fins both combine to provide the strongest maximum foundation for your fixture.
WARNING: Please identify the placement of your ground stake first. Our super stake is made to not move over time, it will be difficult to remove once installed.
Dimensions: Top base is 3" wide and stake is 10.25" long.
Low Voltage Landscaping Lighting
We designed our brass spotlight kits to function on 12V or 120V. 12V systems require a low voltage transformer.
Included:
1 x

Heavy Duty Super Stake (12V only)

1 x

LED MR16 Cool or Warm White 3 Watts Bulb
Cast brass and brass tube construction for the longest lasting and highest quality fixture
WireGuard™ bushing helps protects the wires
UL certified JC Bi-Pin socket with 24" 16ga high-temp leads
Polished mirror reflector
Solid cast brass "TIGER" swivel with "FINGER" key adjustment
Clear WaterSlide™ convex (bubble style) tempered glass lens
Electroplated (bronze and nickel), all other finishes are powder-coated
Adjustable premium Tele-shield™
| | |
| --- | --- |
| Material | Cast Brass |
| Voltage | 12V / 120V |
| Socket Type | UL Certified JC Bi-Pin (E230758) |
| Bulb Type | MR16 |
| Power Rating | 75W |
| Mounting | Ground / Surface |
| Weight | 1.65 lbs |
Dimensions
%%Panel.OutdoorAccessories%%
Why Material Matters