Crafted from solid cast brass, the PWSL-R32 micro spotlight gooseneck sign light proves that big change comes in small packages. Available in black and beautiful electroplated bronze, the PWSL-R32 punches well above its weight class, being small enough to provide highly directed lighting to signs, storefronts or building facades. The angled glare shield is removeable if a wider spotlight is required and the bulb compartment can be accessed without tools for quick lamp replacement / maintenance. The socket assembly features a saw toothed swivel locking system to change the direction of the light output to your desired pitch and can be adjusted in seconds. The cast brass mounting canopy comes with 2 1/2" NPT knockouts, allowing the PWSL-R32 to operate autonomously when paired with photocells and/or motion sensors.
Transformer Options
For your convenience, use the APV-8 transformer for LED light bulbs or the CPT60 for halogen lights!
Bullet Spotlight Design
Featuring a stylish bullet style design this is a commercial grade exterior gooseneck light that is also perfect for residential and office applications.
Gooseneck Arm
Sporting a gooseneck arm design, this fixture boasts eye catching contours and giving it a sophisticated appearance.
| | |
| --- | --- |
| Material | Cast Brass |
| Voltage | 12V |
| Socket Type | GU5.3 JC Bi-Pin |
| Bulb Type | MR8 |
| Power Rating | 20w Max |
| Mounting | Wall / Surface |
| Dimensions | See Below |
| Certifications | UL Certified Socket / High Temp Leads |
Dimensions Diagram: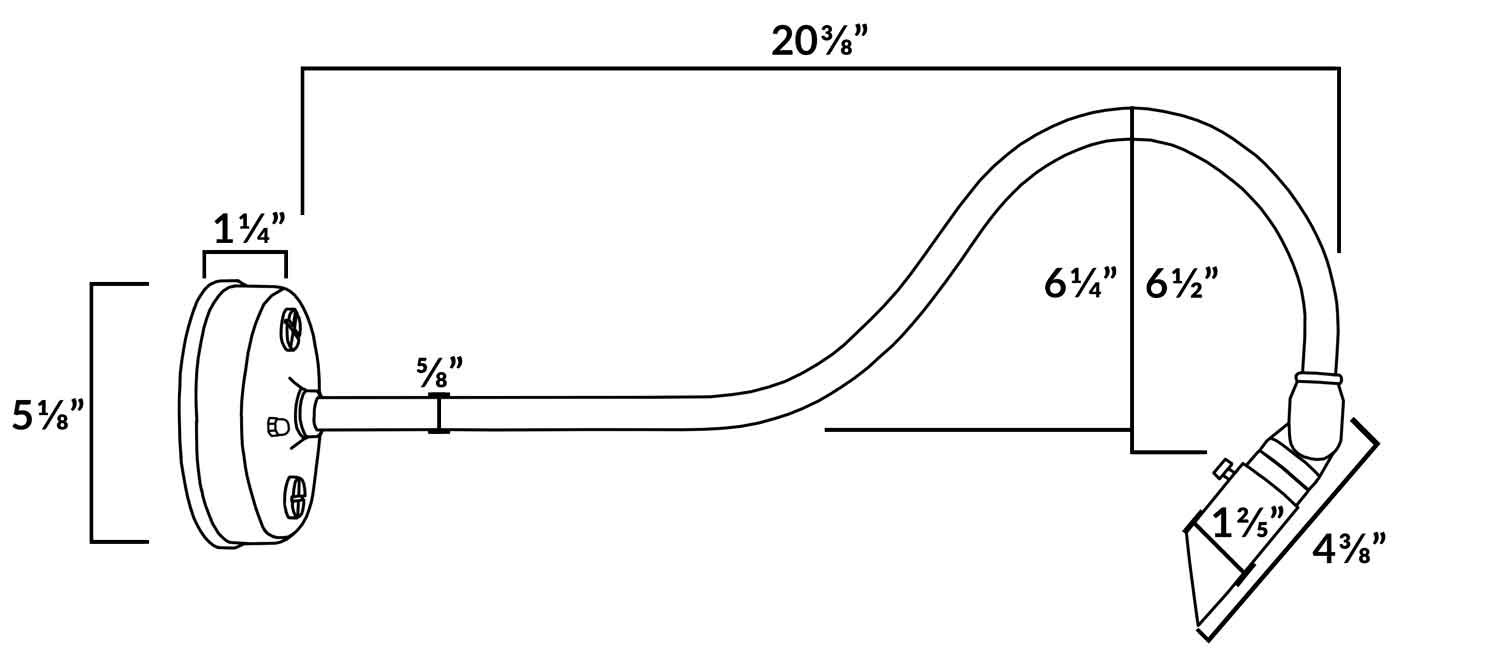 Click here to download the specs
Frequently Asked Questions
Metal Gooseneck Light
Where is the light manufactured?
Per the US governments definition - the US. Many of the parts come from all over the world and are assembled here in the US
So the description says solid cast canopy, swivel, and head piece, but what material are they cast from? What are the shade and socket cover made of?
Solid cast aluminum - swivel, canopy and head piece. Shade is spun aluminum, socket is cast aluminum.
How do you add photocell to make dawn to dusk?
There is a knock out on the canopy. We offer two types 1) commercial and 1) mini Purchase the photocell install where the knock out is and hook it up to your power source. Very easy. As an added bonus we have licensed electricians that can walk you through the process. They are available at 800-865-7221 M-TH 6:30am-7pmPST F 7am-1pm
what are the dimensions? does this light come with a dusk to dawn sensor box or is that available?
As far as the dimensions are concerned, if you click into the section marked as "product details" in the product description, you can see that Product Dimensions sre 30 x 15.2 x 19 inches Not sure about the sensor question. In the description there is mention of a two 1/2"" threaded knockouts for photocell or motion detector".
is this solar powered?
"We have LED or incandescent but not solar. AQ Lighting Customer Care Team 800-865-7221"
Could the neck be shortened. 30" is quite big or do you have a fixture with shorter necK?
30" is the overall length for that fixture. It's a difficult task to cut the arm and have it re-threaded, a $75 up charge but if you have a quantity of 25 we would send it over to the quotes department.
What brand motion detector will work with this light?
Any brand that has a 1/2" NPT
Is the black finish a glossy or matte finish?
The one I have is not black, it's more a "oil rubbed" bronze and it has a satin finish 
What is the best type of LED bulb to use with this for outdoor use on a barn?
We recommend the 120v ( line voltage) it only uses 9w of power. This LED GU24 ( safe socket) bulb has the ability to dim and its rated for outdoors. The color of white is warm.
Is this hardwired?
Yes. Inside the shade is a standard light bulb socket with a black, white and ground wire going through the neck. Very simple to install.
What are the actual physical dimensions of the light fixture itself.
Height: 20" x Length: 27.5" x Diameter: 15.5"
Can the arm be cut, so this fixture doesn't stick out so far from the wall?
It could if you were able to take it to a machine shop to re-thread it otherwise you would not be able to attach the canopy. That being said we can custom make the arm to the length you'd like. The other option we have a similar product that has a shorter arm length, its a bit more expensive but its a beautiful fixture. You'd have to go on our site aqlighting.com enter the sku TROY-RS - and they offer many arm lengths. It would be best to call Monday - they open 6:30am PST -7PM PST, You will get the best information . Also NEW FREE SERVICE: AQ Lighting offers a free service which allows you to speak with a Licensed Electrician, who could direct you to the proper fixture for your specific application. Call 800-865-7221 ask for the Tech. Dept. They are all licensed professionals and AQ Lighting offers this NEW service absolutely free!
What material is the shade made from - aluminum, steel, something else? Also, what is the finish - paint, powder coat? Where is it manufactured?
The shade is constructed from spun aluminum and the finish is powder coated. All AQLighting brand products are assembled in the US.
Is the black finish matte or glossy?
The standard coating for this fixture is matte. We also offer glossy finish for an added up charge.
Is this fixture UL listed?
This is an ETL listed product. Like the UL Mark, the ETL Listed Mark shows that your product has been independently tested by a Nationally Recognized Testing Laboratory (NRTL). That it has met the minimum requirements of widely accepted product safety standards. And that you have agreed to periodic follow-up inspections to verify continued compliance. And like the UL Mark, the ETL Listed Mark is recognized and readily accepted by manufacturers, retailers, distributors and authorities having jurisdiction (AHJs).
Any experience using a motion detector with the light?
Motion sensors work great and there is a knock out in the canopy for a clean installation
What is the mounting plate diameter?
The mounting plate diameter is 5 inches.
How do I get free shipping?
Any order above $199 automatically qualifies for free shipping
What type of bulb is used for this? and can this be hardwired?
Any light bulb with medium base socket will work. This fixture will work with LED or incandescent bulbs.
Is the light dimmable?
Yes, this fixture is designed to work with a dimmer.
Can this be used indoors?
This fixture is outdoor rated but can also be used indoors.
Is this Fixture Wind Resistant?
Yes. When installing gooseneck lighting in your home, office, or commercial building, it is important to keep in mind that wind resistance is crucial to the safety of your property and in turn, your wallet. Poorly designed outdoor gooseneck lights cannot withstand severe weather and wind gusts, resulting in potential damage to not only the fixture itself, but also to the surface it is mounted to.
%%Panel.OutdoorAccessories%%