Stainless Steel Directional Low Voltage Spotlight with a Shield. The accent hood keeps the light source concealed. Can be installed in wet or dry applications. This underwater spotlight includes a sealed convex glass lens which expands the volume of illumination. MR16 bulbs which are available in various degrees for spot or flood Lighting. In Addition add our color MR16 bulbs for theme lighting. Enjoy Rugged stainless steel spotlight- no corrosion, no finish deterioration from exterior UV rays. Please note its premium encapsulate to ensure fixture is completely watertight. So its also ready for underwater use in ponds, fountains, and other water features. Yes any fixture that can work in the water can also be used out of water and you know it can handle the elements- ideal for all decks, gardens and overhangs. Functional and decorative for trees, foliage of various heights because it's adjustable you can customize your project residential or commercial areas. If you would like a model that uses a stake for mounting in the ground, please see the PSS-SSDX-900. Or if you want to upgrade to the latest in LED technology, please see the LES-BSDX-900, a LED stainless steel spotlight that uses a surface base mount.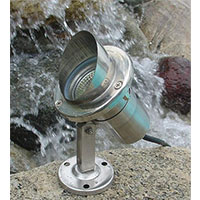 An Elegant Stainless Steel Landscape Light Fixture
Crafted from high quality stainless steel, this spotlight is designed to last in the rough conditions of the great outdoors. This spotlight is made from such high grade material that we guarantee it for life never to rust or corrode.
Easy Outdoor Landscape Spotlight Adjustments
This outdoor yard lighting fixture features an adjustable neck that controls the degree of your LES-BSDX-900's light beam. This allows you to create uplighting for your garden, angled lighting on ground landmarks, or cast level area lighting at a moment's notice.
UL Certified LED Ready Exterior Lights
LED ready, the PSB-SSDX-900 spotlight uses a outdoor-rated GU5.3 Bi-Pin socket, which is compatible with the AQLIGHTING line of energy efficient MR11 and MR16 light bulbs. LED lightbulbs produce the same amount of light as a halogen bulb while only using approximately 80% less energy. Start using some of the newest, most efficient and reliable LED's available today providing over 40,000 hours of bulb life compared to the 2,000 hours of life you can get from a halogen bulb.
12 Volt LED Spotlight
We designed this fixture to work with a 12v line, you will need a low voltage transformer to power this fixture.
Included:
Warranty
One year limited warranty against defects in construction.
| | |
| --- | --- |
| Voltage | 12V |
| Socket Type | UL Certified Jc-Bi-Pin (E230758) |
| Bulb Type | MR11 / MR16 |
| Power Rating | 50w Max |
| Mounting | Ground or Surface |
| Fixture Weight | 1.26 lbs. |
Dimensions
%%Panel.OutdoorAccessories%%