The AQ
LIGHTING
LED underwater pond and landscape lighting kit combines massive energy savings, high light output and stunning durability. Featuring 6 heavy duty composite submersible lighting fixtures and our exclusive UL-approved 60w outdoor rated transformer, the LED002 underwater lighting kit has everything you need to turn your fountain or pond into a beautiful oasis and leave room to add more. Each fixture is constructed from high quality ABS material, features our Mason Jar style cover for tool free removal and optional brass surface mounting base ensures that the fixture will install hassle-free, survive the elements of nature and give you full lighting control. For each fixture, we add one of our 3 watt LED MR16 light bulbs, which produces an equivalent 35w output (10X more efficient that the traditional halogen light bulb). Additionally, the LED002 fixture features our revolutionary "Wire Through" system, which houses your splices inside the fixture, further protecting your system from unwanted environmental damage. Everything about this pond light is designed to last! Additionally, the LED002 system is energy-saving smart, as the AQ
LIGHTING
transformer has a built-in photocell which turns the underwater system off when it is daylight and on when night falls. It practically pays for itself!
Composite Construction:
Crafted from high quality composite material, the LED002 underwater fountain light kit is designed to thrive in the rough environment of the great outdoors. Please be aware that when using underwater fixtures, you must avoid using strong acid chemicals in that body of water as it will destroy the fixtures. For more detailed information,
please click here.
Solid Composite Removable Swivel:
Featuring a solid composite removable swivel with Phillips adjustment, each light in this underwater kit can be adjusted to suit all your underwater lighting needs.
Lifetime Guarantee Against Rust or Corrosion:
The lights in the LED002 underwater kit are made from such high grade material that we guarantee if for life never to rust or corrode.
Exclusive Wire-Through System:
Bulbs
AQ
LIGHTING
is using some of the newest, most efficient and reliable LED's available today for it's LED MR11s and MR16s with over 40,000 hours of life span rating vs less than 2,000 for halogen and a 3,100K color temperature.
Voltage
We designed the LED002 composite underwater light kits to function on 12V.
Included:
6 X

LED 3w MR16 COOL or WARM Light Bulbs

6 X

Heavy Duty Underwater Composite Light Fixtures

1 X

UL Certified 60w Outdoor Rated Transformer (with built in photocell)

6 X

Convex Lens

6 X

30' 18 Gauge SJFT1 Heavy Duty Submersible Cable

6 X

(OPTIONAL) Brass Surface Mounting Base
Warranty
One year limited warranty against defects in construction.
Product Dimensions: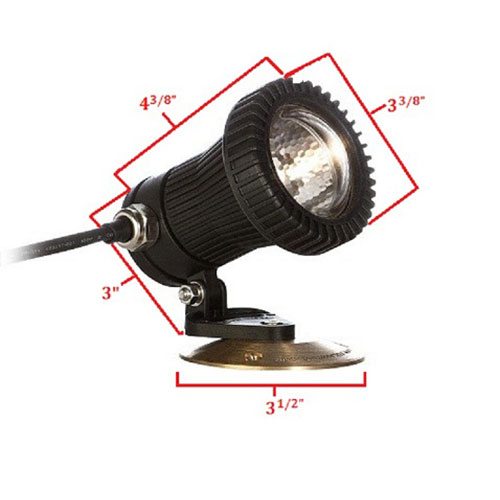 | | |
| --- | --- |
| Material | ABS Plastic |
| Voltage | 12V |
| Socket Type | UL Certified JC Bi-Pin (E230758) |
| Bulb Type | MR11 / MR16 |
| Power Rating | 50w Max (per fixture while submersed) |
| Mounting | Surface |
| Fixture Weight | 1.65 lbs. |
INSTALLATION PREPARATIONS AND PRECAUTIONS:
Please read this instruction sheet carefully.
Luminaires must be installed in accordance with the National Electric Code (NEC) and local codes. Failure to do so may result in serious injury and/or damage to the luminaire.
SAFETY WARNING:
Luminaire can become very hot, depending on lamp wattage used. Lens and metal around the lamp can become hot enough to blister/burn hands. Particular care should be taken not to place luminaires where small children can reach them, especially when high wattage lamps are used.
IMPORTANT SAFETY INSTRUCTIONS
THE LIGHTED LAMP IS HOT!!!
To avoid electrical shock, turn off the power at the circuit breaker before starting your installation project.
WARNING:
TO REDUCE THE RISK OF FIRE OR INJURY TO PERSONS:
Turn off/unplug and allow fixture to cool before replacing lamp.
Lamps get hot quickly! Contact only switch/plug when turned on.
Do not touch hot lens, guard or enclosure
Keep lamp away from material that may burn
Do not touch the lamp directly at any time. Use a soft cloth. Oil from the skin may damage the lamp when illuminated.
Do not operate luminaire fitting with a missing or damaged cover.
NOTE:
Always use UL recognized wire connectors.
%%Panel.OutdoorAccessories%%