AQLighting is excited to feature the novel all weather versatile Black Fairmont Solar Post Cap by Classy Caps. Perfect for a post or wall mount application with easy installation and a stylish appeal. This outdoor light features real pebbled glass, two high output LED's that cast a brilliant white light, and 3 different post sizes - 5x5, 4x4 or 3.5x3.5". With it's complimentary features and high performance solar LED's this light will surely give life to your outdoor settings. A wall mount is included as well.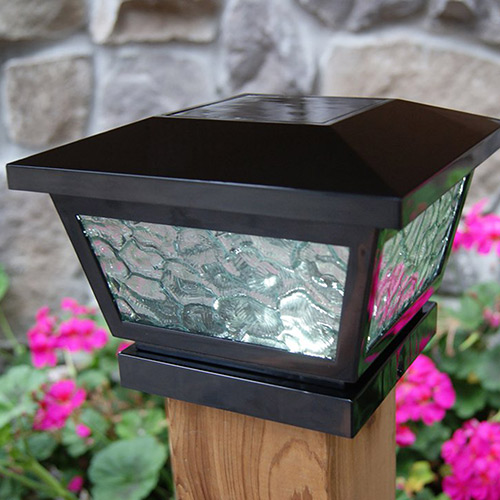 Features
Illuminates automatically every night.
This high output surface mount LED features a brilliant white light, 3x brighter than standard LED's.
Offers 10 Lumens in either 4500K and 5500K for color temperatures.
Manufactured from Black ABS.
The fixture features real pebbled glass.
Adaptors fittings include sizes 5"x5", 4"x4" or 3.5"x3.5" for the post.
This fixture is water resistant.
Features a quick and easy Do It Yourself Installation.
Features 1 Long life AA Ni-MH rechargeable battery.
Fairmont Post Light Instructions
1) Twist the solar lid counter clockwise to remove from cap base as shown. (fig. 1)
2) Install included battery. Make sure polarity is correct. (fig. A)
3) Twist the solar lid back into place.
4) Twist the correct size adaptor into cap base as required and place the fixture onto post.
5) Secure fixture using two mounting screws provided. An exterior grade caulk may be applied to the bottom inside edge of the base before installation for added security.
6) Allow the fixture to receive a minimum of 24 hours of sunlight to allow the rechargeable batter to reach maximum capacity.
| | |
| --- | --- |
| Color Temperature | 4500K - 5500K |
| Fixture Color/Finish | Black ABS |
| Material | Plastic ABS |
| Bulb Type | Integrated Solar LED |
| Lumens | 10 LM |
| Cap/Top Style | Flat |
| Power Type | Solar |
Specification Sheet Download
Product Dimensions
Product Showcase