The AQLIGHTING best seller in-ground LED light now comes with premium brass curved grill cover designed to protect the bulb and lens from the weather and damage making it ideal for lighting driveways and pathways. LED fixtures produce less heat than halogen and extends the already long life span of the LEGAU999 LED in-ground well light. Using highly durable ABS plastic, the LEGAU999 LED in-ground well light features an adjustable gimbal ring to give you more control over the direction of the light. This in-ground LED light fixture is also suited for lighting up trees, bushes, walls, garden art and much more.
Exclusive Adjustable In Ground Well Light
AQLIGHTING designs its products in Southern California and is proud to offer the LEGAU999 in ground light fixture which enables the bulb to be angled up to 25 degrees giving control over where the light will shine. You can angle in any direction a LED PAR38 bulb 2 degrees, a LED PAR30 bulb 15 degrees and a LED PAR20 bulb up to 25 degrees.
UL Certified Fixture and Durability
The LEGAU999 in ground light fixture is UL certified and is made of ultra durable commercial grade ABS plastic. The included 3' heavy duty SJTW cable exits through the the side of the fixture at its base for easy in ground installation.
Need a Photocell?
Wire a photocell (Call to Order) to the fixtures power line and never have to worry about turning these in-ground lights on or off. Make sure to order the power post stake to install the photocell on.
Bulbs
The LEGAU999 in-ground well light comes standard with a 120 volt 8w LED PAR20 bulb. You can choose to upgrade to more powerful bulbs such as our 13w LED PAR30 bulb or our 18w LED PAR38 bulb.
Voltage
The LEGAU999 in ground lights are designed to work with 120V.
Included
1 X

PGAU999 Fixture

1 x

Curved Grill Cover

1 x

Convex Glass

1 x

Unit Gasket

2 x

Glass Gasket

5 x

Shade Screws

1 X

3' SJTW 16 gauge Cable

1 x

Wire Through Assembly
WireGuard™ Bushing helps Protect Wires
UL Certified Medium Base Socket with 24" 16ga High-Temp leads with Bare Copper Ground
Fully adjustable Polished mirror reflector
Built in Wiring compartment with Terminal Block
Dual Wet Seal Silicone-Based Gasket
| | |
| --- | --- |
| Material | ABS Composite |
| Voltage | 120V |
| Socket Type | UL Certified Medium Base (E105933) |
| Bulb Type | PAR20 / PAR30 / PAR38 / Reflector |
| Power Rating | 120w Max |
| Wiring | 3' SJTW 3X16ga (factory installed) |
| Mounting | In-Ground |
| Fixture Weight | 3.69 lbs |
| Certifications | cULus Listed - Wet Locations |
Specification Sheet Download
Dimensions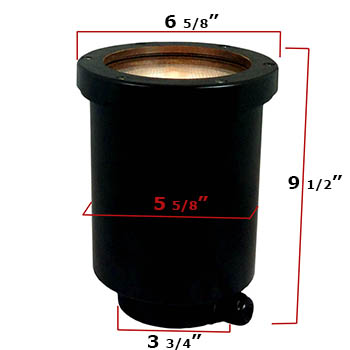 %%Panel.PGAU999Accessories%%