A newcomer to our line of 120v LED well lights, the LEGAU999-BI combines highly durable ABS composite with no nonsense cast brass to create the ultimate in ground marker / accent light. The cast brass bi-directional "mushroom" cover directs the light downwards in opposing directions, making it perfect for outlining pathways in high foot traffic areas. Available in textured black, electro-plated bronze and beautiful raw brass, the LEGAU999-BI covers offer superior protection from falling debris and glare protection for observers. Paired with the reflective aiming gimbal so you can favor lighting on one side of the cover, the LEGAU999-BI is a top contender in both residential and commercial lighting applications.
Cast Brass Has You Covered
Only the toughest for your lighting projects, AQLIGHTING now features a bi-directional "mushroom" cover made from cast brass and available in 3 beautiful color options. This 2 way cover offers greater protect for your light fixture, making it ideal in areas with high foot traffic where you wished to create marker or accent lighting.
Exclusive Adjustable In Ground Well Light
AQLIGHTING designs its products in Southern California and is proud to offer the LEGAU999-BI in ground light fixture which enables the bulb to be angled up to 25 degrees giving control over where the light will shine. Now comes with a 3 way "mushroom" premium brass cover to provide excellent outdoor accent lighting, while offering a greater degree of protection from environmental hazards.
UL Certified Fixture and Durability
The LEGAU999-GL in ground light fixture body is UL certified and is made of ultra durable commercial grade ABS composite plastic. Included is a 3' heavy duty SJTW cable exits through the the side of the fixture at its base for easy in ground installation.
Included:
1 X

PGAU999 Fixture ABS Composite Fixture Body

1 x

Cast Brass Bi-Directional "Mushroom" Cover

1 x

Tempered Glass Lens

1 x

Fixture Body Main Gasket

2 x

Glass Anti-Leak Gasket

5 x

Cover Screws

1 X

3' SJTW 16 gauge Cable

1 x

Wire Through Assembly
Cast Brass 2 Way "Mushroom" Cover
WireGuard™ Bushing helps Protect Wires
UL Certified Medium Base Socket with 24" 16ga High-Temp leads with Bare Copper Ground
Fully adjustable Polished mirror reflector
Built in Wiring compartment with Terminal Block
Dual Wet Seal Silicone-Based Gasket
| | |
| --- | --- |
| Material | ABS Composite / Cast Brass |
| Voltage | 120V |
| Socket Type | UL Certified Medium Base (E105933) |
| Bulb Type | PAR20 / PAR30 / PAR38 / Reflector |
| Power Rating | 100w Max |
| Wiring | 3' SJTW 3X16ga (factory installed) |
| Mounting | In Ground / Below Grade |
| Fixture Weight | 3.69 lbs |
| Certifications | cULus Listed - Wet Locations |
Specification Sheet Download
Dimensions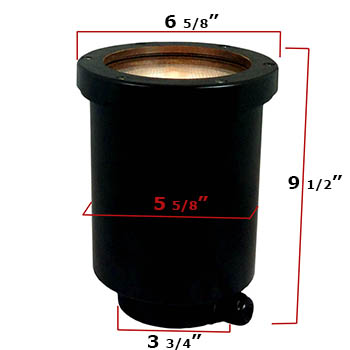 %%Panel.PGAU999Accessories%%
Frequently Asked Questions
In Ground Landscape Well Light
What purpose does the second access point in the base?
There are (2) 1/2" NPS female ports on oppisite sides of the fixture. 1 port comes with a 1/2" NPS threaded plug and the other port has a 1/2" cable gland with a SJTW whip. Both the plug and the gland can be removed so that you can install 1/2" male terminal adapters for conduit applications.
Are there any installation protocols or things to look out for when installing this fixture in a garden or a place with wet soil?
To start, well lights are NOT underwater lights, never install them where water gathers. They should be installed in a manner where water drains away from the fixture. This may require installing them surrounded in a bed of gravel and the top edge should never be below grade.