AQLIGHTING keeps energy efficiency and elegance in mind when choosing their light fixtures. Featuring Lumien Lighting's WE-CP-L, this fixture brings you both. Made out of solid aluminum and reinforced powder coated bronze, this sleek and modern looking outdoor yard light will last for years without experiencing rust or corrosion. The exterior light is also equipped with a silicone seal in order to prevent moisture for entering your fixture. Available in a Warm White 3000K temperature.
Heavy Duty Exterior Landscape Light
Using solid aluminum material reinforced by a bronze powdered coat, this wall light will be resistant to rust and corrosion from the outdoors. This LED Down Light also comes sealed with silicone at the lead wire exit to prevent moisture from entering your fixture.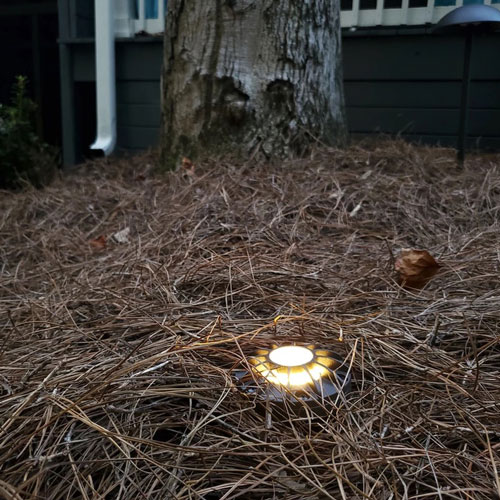 Cost Efficient Outdoor Yard Lighting
With an Integrated LED, you won't have to worry about replacing your light bulb. Integrated LED's last longer than regular screw in LED bulbs and have an even longer lifetime when compared to halogen or incandescent light bulbs.
Warranty
Backed by a 10 year warranty.
| | |
| --- | --- |
| Material | Aluminum |
| Finish | Powder Coat Bronze |
| Voltage | 10 - 15V |
| Power Draw | 10W |
| Light Output | 550 Lumens |
| Lead Wire | 6ft Long |
| Certifications | UL Listed (E501872) |
Specification Sheet Download
Dimensions
%%Panel.OutdoorAccessories%%