Top-Spec Epistar LEDs
Plug & Play Installation
Rated IP65

IP65 rating means that the product is "dust tight" and protected against water projected from a nozzle or from rain. THIS PRODUCT IS NON-SUBMERSIBLE

ETL Listed / UV Protected
ROPE LIGHT MUST BE UNCOILED BEFORE CONNECTING TO POWER
CONNECTING TO POWER WHILE STILL ON SPOOL WILL RESULT IN DAMAGE TO THE PRODUCT AND/OR FIRE,
AND WILL VOID THE WARRANTY ON YOUR PRODUCT.
Outdoor rated, ETL listed and UV protected, AQLighting's™ unique Endura series LED rope light is the best in its class. Featuring a larger circular diffuser than regular rope light, the Endura series disperses light much more evenly and effectively compared to its competition. Comes with the necessary power cords, connectors and end caps for an easy, plug and play installation!
Full Range Dimming Capability
Cool In the Face of Change
Diodes make all the difference and this is the best and newest LED on the market for this application. This new LED produces more light output, eliminates dark spots and features full range dimming. All of this and huge energy savings.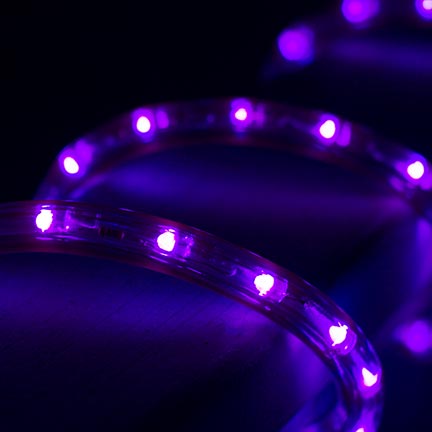 Stays Cool All Day Long
The Endura LED rope light series features a larger diode to eliminate dark spots, and produce a better beam spread and no gaps in the light coverage. Unlike other LED rope lights, the Endura series uses no reflectors or refractor lens and produces direct light output from diode to surface.
Flexible Lighting Application
The Endura series can be as flexible as you need it to be, perfect for a variety of applications. Easily install in tight spaces like corner areas, behind mirrors and more without worrying about damaging this rope light.
The Epistar Diode
This rope light features the new super bright Epistar LED, making it the most impressive rope light you can buy.
Founded in 1996, the Epistar LAB of Taiwan is firmly established as the world's leading LED supplier and is continuously exploring new possibilities.
Made of the worlds most efficient, high-strength red and blue LED's.
The Epistar diode is so powerful, competitors won't even know who made it.
Accessorize
Everyone uses rope light differently so we've created 3 accessory kits to better cater to our customers. Every roll of our LED rope light comes out of the box ready to go, but should you require the ability to create multiple smaller runs from your spool, you'll need more than just the basic roll.
*
The standard kit comes already installed with your LED rope light spool. The premium and delixe kits comes as a separate accessory bundle.
Standard Kit
Includes:
LED Rope Light 150' Spool
1x 2Ft 2 Wire Power Cord (Attached)
1x 2 Wire Power Connector (Attached)
1x 1/2" End Cap (Attached)
Premium Kit
Includes:
LED Rope Light 150' Spool
2x 2Ft 2 Wire Power Cord

*

2x 2 Wire Power Connector

*

2x 1/2" End Cap

*

100x Mounting Clips
Deluxe and Replacement Parts Kit
Includes:
LED Rope Light 150' Spool
3x 2Ft 2 Wire Power Cord

*

2x 6Ft 2 Wire Power Cord
5x 2 Wire Power Connector

*

5x 2 Wire Invisible Splice Connectors
5x 1/2" End Cap

*

150x Mounting Clips
Outdoor LED Rope Light Spool and Commercial Application
All of our LED rope light spools are rated for commercial indoor and outdoor use. For submersible applications, check out our underwater lights page.
For information on how to cut 120v rope light, click here for our exclusive, in-depth guide.
Material
UV-Protected Clear Flexible PVC
Voltage
120V AC
Diode Type
Epistar Diode
Power Draw
1.12w per foot
Light Output
~130 Lumens per foot
Dimming Capacity
5% - 100%
Cut Marks
Every 30"
Rectifier Capacity
8A
Max Run
150ft
Dimensions
1/2" Diameter X 150'
IP rating
IP65
Certifications
cETLus Listed for Indoor/Outdoor Use
(5006083)
Specification Sheet Download
Dimensions Diagram: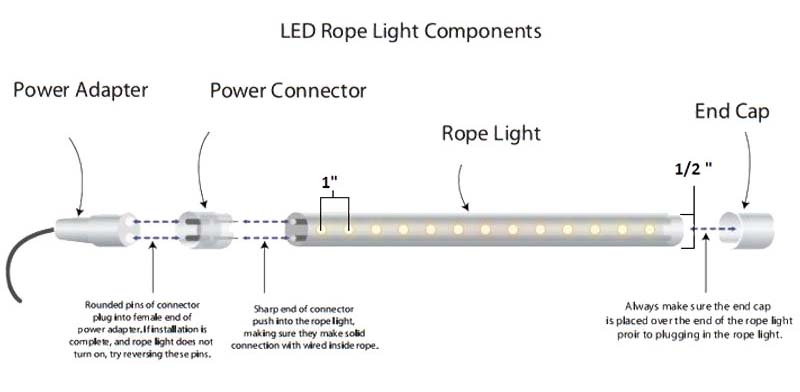 %%Panel.LEDRopeLightAccessories%%
Frequently Asked Questions
Outdoor Commercial Grade Dimmable LED Rope Light, 120V IP65 WaterProof Endura Series
Can this be cut for different lengths?
The Endura Series Rope light can be cut every 30". There is white printing to indicate the spots where it is safe to cut.
What is the diameter of this rope light?
The Endura series rope light has a 1/2" diameter.
Can you use a standard 110V wall dimmer for these lights?
Yes as long there the dimmer is LED compatible and has enough capacity to handle the wattage.
Can end caps and starter cords be purchased separately and at what cost?
Yes, 2' power cords are $8.99, 6' power cords are $11.99 and end caps are $0.95. These pages are not currently up on the Amazon site. It would be best to contact Amazon directly to help with the transaction.
Where were these made at?
This rope light was made in China per AQ Lighting's manufacturing specs.
What is the total length?
The total length of the Endura Pro Series rope light is 150ft.
Do you have to use a special dimmer with this product? Does have any recommended style dimmers to use?
Any dimmer designed for CFL or LED light bulbs are compatible. We recommend the Lutron DVCL or the Legrand Wattstopper RHCL453PTC. The Lutron will be able to dim up to 150 watts of LED lighting and the wattstopper can go up to 450 watts. For more info, please call the AQLighting Group technical department at 800-865-7221.
What is the difference between standard and premium kits??
The standard kit comes with 150' of rope light, 1 factory attached power cord and 1 factory attached end cap. The premium kit includes 150' of rope light, 1 factory attached power cord,1 factory attached end cap, 1 additional 2' power cord, 1 additional end cap and 100 mounting clips. For more in depth information please call the AQ Lighting tech department at 800-865-7221.
Can I hang items from the Endura Rope Light? Ex: Plant Pots, Signs, etc.
No, all rope light should be supported minimally every 15' and should never be used to support other objects.
Is there a way that I can split the Endura Rope into two separate runs?
We do not offer a "Y" splitter however, we do have accessories like "T's", "X's" and even multi connectors.
Can the center-most portion of the Endura Rope Light be submerged in water?
No, Endura rope is IP65 which means that it can handle outdoor weather conditions but it can never be submerged.
Customer Submitted Photos
Indoor Pool Installation
Outdoor Tropical Tree Design
Warm White Kitchen Installation
Patriotic Spiraled Flag
How to Cut Rope Light
Replacing a Section of Rope Light
Tips and Tricks on Mounting Rope Light
Tips on Rope Light Connectors
Rope Light Word Art
Step by Step Guide on creating Rope Light Word Art
Christmas in July - Holiday Rope Light Art