Note: For longer runs, some applications may experience Voltage Drop. Click to learn more.
*DISCLAIMER*
All bulbs should be programmed INDIVIDUALLY before they are installed permanently.
The RF signal will not penetrate water. So once they are installed in the fountain or pond you cannot change the programming unless you lift the fixture out of the water.
N.S.C. System Connection Example
The AQLIGHTING underwater RGBW LED pond lighting and landscape lighting kit combines massive energy savings, high light output and stunning durability. This DIY outdoor underwater lighting kit features x3 heavy duty composite submersible lighting fixtures, x3 12V LED bulbs, x2 NSC jumpers, x2 NSC t-connections, and a 15ft power cord, as well as our exclusive UL-approved 150w outdoor rated transformer. Each fixture is constructed from high quality ABS material. The unique Mason Jar style of the underwater RGBW fixture provides a tool free removal, and the optional brass surface mounting base ensures that the fixture will install hassle-free, survive the elements of nature and give you full lighting control. Additionally, these submersible fountain lights feature our revolutionary NSC system, which enables you to install the entire system without wire strippers. Everything about this LED pond light kit is designed to withstand the test of time. Additionally, this system uses smart technology to save energy, as the transformer has a built-in photocell which turns the underwater system off when it is daylight, and back on when night falls. The no splice connection (NSC) underwater lighting kit has everything you need to turn your fountain or pond into a beautiful oasis, and the RGBW gives you the ultimate color control.
RGBW LIGHTING
Control your light system in 4 separate zones, or control all your NSC fixtures at once, the RGBW control allows for unique light displays.
The W in RGBW enhances the coloration control of your white bulb hue -- so add to your current exterior lighting design without fear of mismatched bulb coloration.
The RGB is not simply red, green, and blue -- the color wheel provides a full range of colors! Enjoy red, white, and blue for the 4th of July and orange, purple, and cool white for a spooky haunted house. The color possibilities are endless!
RF Remote
Control your landscape lights with ease or set a playful holiday light display with one click.
Use the RF remote to create festive mixes of color or set the perfect white hue to match your existing light display effortlessly.
Adjust your landscape lighting coloration from the comfort of a lawn chair to celebrate holidays, gender reveals, or enhance your decor to fit your mood.
No Splice Connection NSC
Leave the wire strippers in your tool box, AQLighting's NSC system makes it possible to install your entire outdoor landscape light system without tools.
Each connection is tool free and built to withstand severe weather conditions - saving excessive labor and making it an visually impressive DIY project with minimal effort.
The NSC can add another fixture at any time by simply connecting another jumper or t-connector. It is that simple. An alternative transformer is recommended for projects intending to expand.
OTR-YLP-150 Transformer
The heavy duty ABS material used to build this transformer is rated for outdoor use and will withstand almost any weather condition.
A built-in photocell for automatic operation saves energy and money, in addition the transformer has an hour timer as well for further control.
The OTR-YLP-150 includes a power breaker for protection against potential electrical surges.
Exclusive Wire-Through System
Included
3x

PUM-L-002 Fixtures

3x

12V LED Bulbs

1x

Outdoor Rated Transformer

1x

NSC Power Connector

2x

NSC T-Connectors

2x

NSC Jumpers

1x

RF Remote
Bulbs
We are using some of the newest, most efficient and reliable LED's available today for it's LED MR11s and MR16s with over 40,000 hours of life span rating vs less than 2,000 for halogen and a 3,100K color temperature.
Voltage
We designed the LED002 composite underwater light kits to function on 12V.
Warranty
One year limited warranty against defects in construction.
| | |
| --- | --- |
| Voltage | 12V |
| Socket Type | UL Certified JC Bi-Pin (E230758) |
| Bulb Type | MR11 / MR16 |
| Power Rating | 50w Max (per fixture while submersed) |
| Mounting | Surface |
| Fixture Weight | 1.65 lbs. |
Dimensions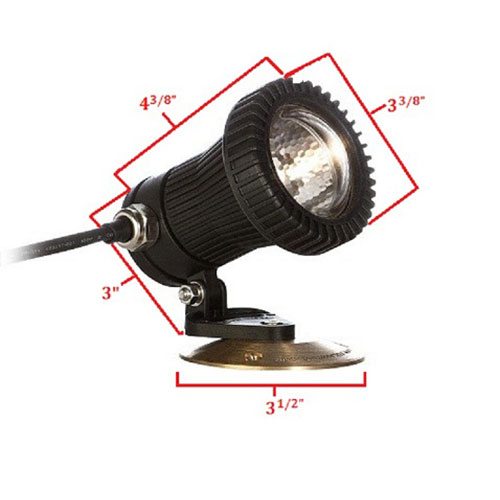 INSTALLATION PREPARATIONS AND PRECAUTIONS
Please read this instruction sheet carefully. Luminaires must be installed in accordance with the National Electric Code (NEC) and local codes. Failure to do so may result in serious injury and/or damage to the luminaire.
SAFETY WARNING: Luminaire can become very hot, depending on lamp wattage used. Lens and metal around the lamp can become hot enough to blister/burn hands. Particular care should be taken not to place luminaires where small children can reach them, especially when high wattage lamps are used.
IMPORTANT SAFETY INSTRUCTIONS
THE LIGHTED LAMP IS HOT!!! To avoid electrical shock, turn off the power at the circuit breaker before starting your installation project.
WARNING
&nbspTO REDUCE THE RISK OF FIRE OR INJURY TO PERSONS
Turn off/unplug and allow fixture to cool before replacing lamp.
Lamps get hot quickly! Contact only switch/plug when turned on.
Do not touch hot lens, guard or enclosure
Keep lamp away from material that may burn
Do not touch the lamp directly at any time. Use a soft cloth. Oil from the skin may damage the lamp when illuminated.
Do not operate luminaire fitting with a missing or damaged cover.
NOTE:
Always use UL recognized wire connectors.
%%Panel.OutdoorAccessories%%
Intro to NSC (No Splice Connection) Systems
Product Showcase - RGBW Lighting
How to Use The No Splice Connection (NSC) System