The AQLIGHTING high output 3 submersible fountain light bundle kit deal. Unique in the lighting industry, the LARA60KIT underwater kit uses 20 watts per fixture to create brilliant illumination, even from great depths. The LARA60KIT kit is TWICE as bright as the standard underwater pond 3 light kits, so it works even in the murkiest of waters. This is possible by utilizing the MR11 light bulb platform which allows for a more compact fixture, perfect for shallow fountains or discrete pond lighting. Each LARA60KIT fixture is designed with a directional swivel, giving you full control over the direction and angle of the light, providing custom lighting arrangements that meet your submersible requirements. The LARA60KIT underwater kit comes with several colored lenses for further submersible lighting options. Paired with the AQLIGHTING UL-approved 60w outdoor transformer, this underwater fountain kit comes with everything you need for submersible lighting. Please be aware that when using underwater fixtures, you must avoid using strong acid chemicals in that body of water as it will destroy the fixtures. For more detailed information, please click here.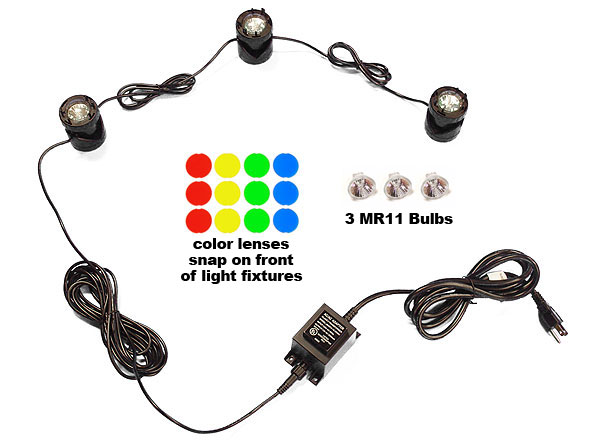 Kit Includes
3 X

Heavy Duty Underwater Composite Fixtures

3 X

Halogen 20w MR11 Light Bulbs

1 X

UL Listed 60w Outdoor Transformer

3 X

Red Colored Lenses

3 X

Yellow Colored Lenses

3 X

Green Colored Lenses

3 X

Blue Colored Lenses
Warranty
These light fixtures and transformer are warranted for 12 months from the date of purchase. Proof of purchase is required for claiming warranties. Bulbs are NOT covered under warranty. If your fixture(s) or transformer proves defective during this period, please call 1 (800) 865-7221 for assistance/replacement.
High Output Halogen Lighting
Heavy Gauge Underwater Grade ABS Plastic Construction
LED Ready G4 JC Bi-Pin Socket
Directional Swivel
UL Listed 12 Volt 60 Watt Outdoor Transformer
Water Tight Rubber Wet Seal Gasket
Set of 4 Color Lenses Included
| | |
| --- | --- |
| Material | High Grade ABS |
| Voltage | 12v |
| Socket Type | G4 JC Bi-Pin |
| Bulb Type | MR11 |
| Power Rating | 20w Max per Fixture |
| Diffuser | Clear Plastic Lens |
| Fixture Seal | Water Tight Rubber Weal Seal Gasket |
| Transformer | 12V 60w Rainproof UL Listed Transformer |
Product Dimensions
Installation Instructions:
When installing this underwater spotlight kit, please make sure that each fixture is sealed before submerging in water. Though each spotlight comes from the factory with the cover attached, we highly recommend removing the cover to ensure that the gasket is properly seated to keep water from entering.
To check the seal, unscrew the cover of the fixture by gripping onto the octagon shaped bit and turning it counter-clockwise 1/4 of a rotation then gently pull.
The red gasket must be seated inside the inner ridge of the spotlight to ensure that water cannot enter the fixture.
Replace the plastic curved lens and octagon shaped cover. To test the fixture's water tightness, you can submerge the fixture in water for a short period of time (10-15 mins) and check for leaks by turning the fixture upside down and looking in the curved lens cover.
Product Notes:
With the halogen light bulbs on, condensation inside the fixture may occur but more than light condensation may be the result of a leaking gasket or cracked fixture body. For further assistance, please contact our support staff at 1 (800) 865-7221.
WARNING: the spotlights are submersible, the transformer is NOT!
Underwater Light Kit
The transformer for this underwater light kit is UL approved for safe operation.
CAUTION: Though these lights may be used either in or out of water, when used out of water, the fixtures may get hot. Be careful not to place them in contact with materials that can burn.

If located outside of water for extended periods of time, the lens cover might receive damage from the heat generated by the halogen bulbs.
%%Panel.OutdoorAccessories%%