AQLIGHTING keeps savings in mind. Our vintage giant sized G40 LED globe bulb string lights now come complete with a 120V In Line 200w Dimmer. Adding this String Light Kit will enhance your large patio areas at home or any party and event. These LED string lights come with an IP67 rating meaning that water droplets or moisture will not damage your fixture and will operate safely, rain or shine.
Better In Pairs
The Giant G40 LED globe kit comes with TWO string lights, giving you even bigger room to create beautiful lighting with 14 giant sized G40 LED bulbs at your disposal. Need more lights? You can attach additional string lights with a max run of 6 string lights in total (runs about 210 feet) which would give you 42 bulbs to use!
In Line Dimmer Included
Easily control and dim your LED rope lights from up to 100 feet away! With full range dimming capabilities, you set the light ouput exactly how you want it for any occasion. The wireless remote also features preset dimming buttons at 25%, 50%, 70% and 100% so you can quickly change your light ouput. The In Line Dimmer also comes ETL listed for outdoor applications, making it resistant to moisture.
Giant, Oversized LED Globe Bulbs
Featuring giant globe bulbs that only consumes 3.5 watts of power yet produces light output equivalent to a 50w incandescent bulb, this LED string light is perfect for illuminating medium to large outdoor areas like patios, backyards and deck areas. The gigantic LED G40 bulbs provides excellent light output that covers a large area and can be dimmed using a controller (dimmer control sold separately).
Edison Style Filament LED Giant Globe Bulbs
Incandescent bulbs are often praised for how good they look, especially with its exposed wire filaments that beautifully emits light in interesting patterns. However, they were notorious for their short life span and large energy consumption. Now you can have the best of both worlds, with these giant sized, Edison style LED bulbs. Mimicking the look of filament bulb from the 1800s, these modern bulbs have cleverly arranged LEDs that imitate the wire filaments of incandescent light bulbs and are much more energy efficient without sacrificing brightness or lumen count.
| | |
| --- | --- |
| Brand | AQLIGHTING |
| Voltage | 120V |
| Number of Lights | 7 |
| Power Draw | 3.5w Per Bulb / 24.5w Per String |
| Bulb Spacing | 5ft |
| Max Run | 2 sets ~75ft |
| Bulb Socket | E26 Medium Base |
| Bulb Type | G40 Edison Style Globe LED |
| Bulb Wattage | 3.5w Per Bulb |
| Lumens Per Bulb | 435 Lumens |
| Total Lumen Count | 3,045 Lumens |
| Color Temperature | Warm White 2700K |
| Socket Drop Off | 3" off Cord |
| Dimmable | Full Range w/ CFL / LED Dimmer |
| UL Certifications | E308842 (Cord) / E323736 (Socket) / E476246 (Bulb) |
7 Giant Light String Dimensions: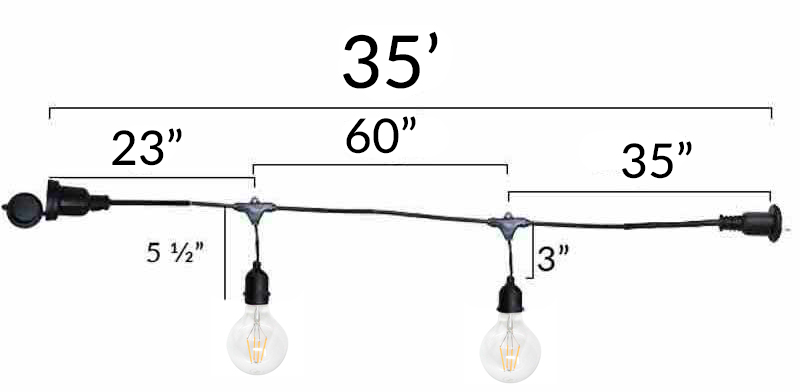 How to Install - Giant Globe LED Patio String Light
Giant Globe LED Patio String Light - Product Showcase
String Light Basics
Top String Light Questions Answered