Illuminate every space with confidence and style
The Reliable Partner For All Your Lighting Needs.
+40 Year Experience
With over 40 years of lighting expertise,
we focus in providing the best customer
experience and great quality products
Shipping & Quickship
Free Shipping on items over $100 and
Quickship for selected items placed by
5pm PST ship same day.
Stress Free & Easy Returns
We provide a 14-day, stress free return
and exchange policy on the majority of
our products
Note: For longer runs, some applications may experience Voltage Drop. Click to learn more.
N.S.C. System Connection Example

Our latest and greatest just got better; now introducing the PGC5B in ground lights family with cast brass open face cover design and N.S.C. system. Forged from solid cast brass, the PGC5B-AS covers boast greater strength than traditional aluminum, allowing it to be used in areas with high foot traffic or falling debris without worrying about fixture damage. These covers come in standard black, beautiful electro-plated bronze and stunning raw brass finishes so your fixture can either blend into the surrounding environment or stand out and make a statement. The angle shield cover design is great to protect observers from irritating bulb glare without sacrificing light output from your lamp. This style of cover is perfect for uplighting applications, from bushes and shrubbery to flag pole and tree lighting. Rated for 35w, the PGC5B also features an adjustable socket, allowing you to angle your lamping to get tricky high-angle lighting angles or straight up to hit even greater heights.
N.S.C. Retrofit Adapter Diagram
To retrofit this fixture to your existing lighting setup, simply use our retrofit adapter (available as additional option) and you can easily connect your new fixture without splicing any wires, saving you a lot of time during installation!
Cast Brass Angle Shield
Combining AQLIGHTING's PGC5B-AS with the new cast brass glare shield is the perfect combination for those looking to protect observers from lamp glare while increasing the durability of their well lights.
The glare shield covers 180°s, insuring that the light is only visible on the object that you desire to highlight in the landscape.
The PGC5B-AS has an adjustable aiming socket assembly so you can change the angle of the light output, making it the perfect choice for lighting trees and garden shrubbery.
No Splice Connection Wiring System
Leave the wire strippers in your tool box because with AQLighting's new N.S.C. system, you won't need them for installation.
Each point of contact is tool-free and can be connected in ~5 seconds. This wiring system will save you a ton of time and labor.
Should you desire more light fixtures in the future, the system is easily expandable.
Easy Expansion Capability
With the No Splice Connection (N.S.C.) wiring system, adding more light fixtures to your setup is a breeze. The system is designed to be easily expandable, allowing you to incorporate additional fixtures in the future without hassle.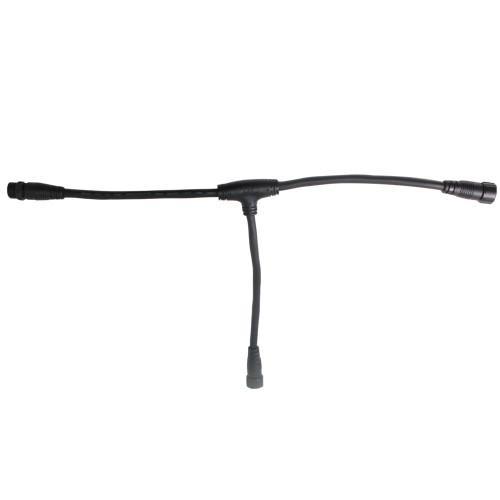 Tool-Free Connections for Quick Installation
The No Splice Connection (N.S.C.) wiring system eliminates the need for wire strippers and complex splicing. Each point of contact can be connected in approximately 5 seconds without the use of any tools. This not only saves you time but also reduces labor and ensures a hassle-free installation process.
| | |
| --- | --- |
| Material | ABS Composite / Cast Brass |
| Voltage | 12V AC/DC |
| Socket Type | GU5.3 JC Bi-Pin |
| Bulb Type | MR16 |
| Power Rating | 35w Max |
| Wire Lead | 7.5" w/ NSC Plug |
| Dimensions | See Below |
| Certifications | IP65 Connection |
Product Dimensions
%%Panel.PGC5BAccessories%%
Product Showcase - PGC5B-AS
Tree Uplighting Demonstration
Customer Videos